What about when you need to print a large amount of information, instructions or translations on a label that has very little space? We will print the Peel off label for you!
Peel off labels are also called: multi-layer, double-layer, Peel & Read or Peel and Reveal labels. Regardless of their trade name, they all consist of at least two interconnected layers that work similarly to a small book. However, Peel Off labels are considerably cheaper than a similar concept in the form of booklets, which are composed of an accordion-like insert between the raw material and the laminate. For this reason, they are gaining increasing popularity. We produce labels up to four layers and that can have up to seven printed pages.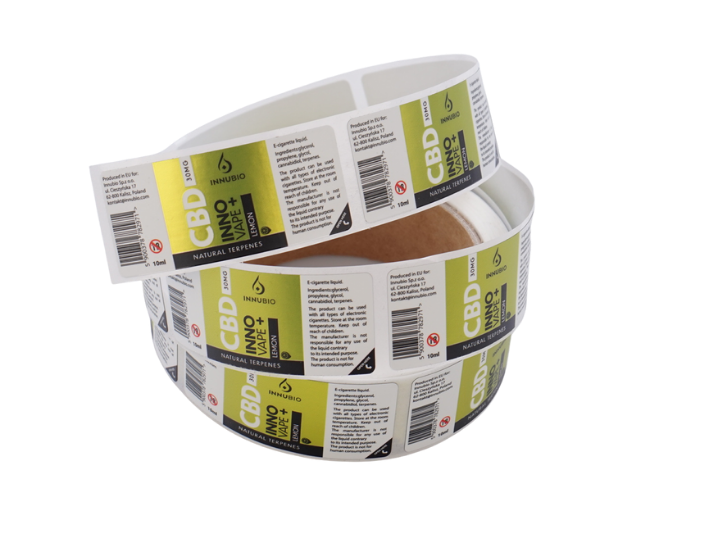 We also offer peel off labels using digital technology. The technology we use is unique, as it offers the possibility of being able to print the first, third and fifth page in colour, without incurring preparation costs. To print peel-off labels in hybrid digital technology, only two flexographic matrices are needed in order to print the second, fourth and possibly sixth page in any one Pantone colour and to deactivate the gluing option.
This option is perfect if you are interested in:
including detailed information on dosage, contraindications, ingredients, warnings or product descriptions
conveying large amounts of information that is clear, readable, and waterproof
including multiple languages,
making sure that the information or instructions are in line with the product and are easily accessible to the customer.
Peel & Read labels are made up of two layers that can include printed information. This technique gives more space for product description that does not interfere with the design of the product label. This high-quality label allows you to peel, read and close the informational label as many times as needed.
As a company with modern printing equipment, we sell stickers and double-sided labels. We use high-quality inks and digital printing techniques, so that we can create two-layer labels for any packaging that requires the highest quality printing and an aesthetically pleasing appearance. We have various shapes and patterns available, depending on the product's needs and the surface on which they are placed.
Full colour digital printing on the first side is at no additional cost, and in order to print on the second side (from the adhesive side) with flexographic technology, we only need one matrix. This means that the second side can only be printed in any one colour from the PANTONE palette.
Peel and Read labels have a wide range of applications. In the cosmetics or pharmaceutical industries, for instance, they can be placed on smaller products where they can only take up a small amount of space but can be peeled off to include information such as consumer safety, product content, and other necessary information.
For your convenience, the labels are stored on a roll for automatic application that uses standard labeling equipment in order to ensure an uninterrupted operation of production lines.
We can print Peel and Read labels from any design tailored to your requirements. This includes double-sided labels, labels with arrows that clearly show the peel-off option, all of which come in a variety of sizes and materials.